[ad_1]
1 Gold, 2 Silver for the USA at the French Olympic Week 2022
by US Sailing Team Apr 30 20:22 PDT
April 25-30, 2022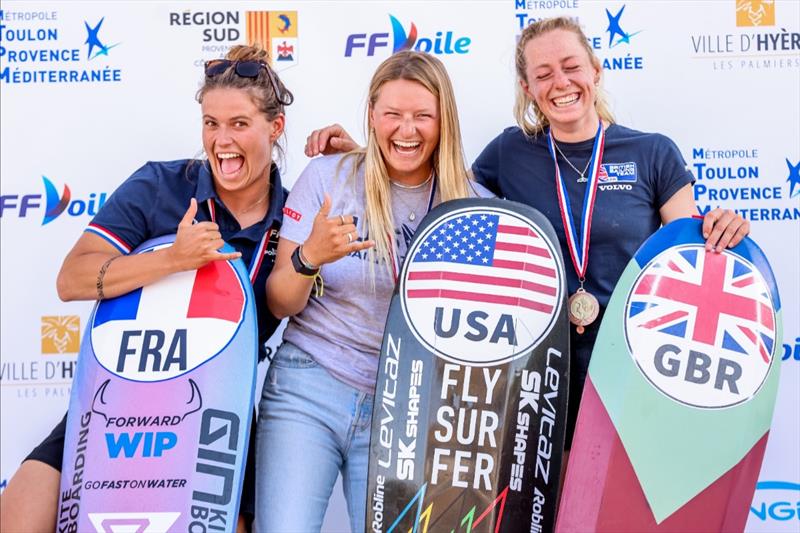 Daniela Moroz with her gold medal on the Women's Formula Kite podium at the 2022 French Olympic Week © Sailing Energy

The medal chase and heats ended today on Mediterranean waters for the 53rd French Olympic Week and the US sailing team won one gold and two silvers.

Medal winners:
GOLD: Daniela Moroz, Formula Kite Women
SILVER: Steph Roble / Maggie Shea, 49erFX
SILVER: Nevin Snow / Mac Agnese, 49er
Other top USST finishers at French Olympic Week 2022:
9th: Andrew Mollerus / Ian MacDiarmid, 49er
11th: Ian Barrows / Hans Henken, 49er
14th: Sarah Newberry / David Liebenberg, Nacra 17
20th: Markus Edegran, Formula Kite Men
"At the start of the final today, I only needed to win one race to win the event," said Formula Kite female athlete Daniela Moroz. "It was a super light wind so there was a lot of pumping tacks and gybes. It was essential to stay in the pressure and get to the right side of the course as quickly as possible and I I ended up winning that first race of the day and taking the gold."
"It was a really fun week," Moroz continued. "We sailed in a wide variety of conditions and fitted almost every size wing in our kit to adapt to the wind and sea state. It was really tough and I had some really close battles with Lauriane Nolot [from France] but overall we had a great week in Hyères."
"This week has gone really well for us," said 49er athlete Nevin Snow. "We learned a lot every day and we managed to stay in the top three for the six days of the event, finishing second. We are happy with how we achieved the goals we set for ourselves at the start of the event and the results that came in the process of executing those goals."
"The Palma regatta and this regatta in Hyères was our first chance to test the new mast and sails, so it was a great opportunity to gather data," added Maggie Shea. "We've found some good settings and some bad settings, and we're excited to go back to the drawing board this spring and continue to progress ahead of Europeans and Worlds this summer."
"Hyeres provided great conditions and great competition for our athletes to test themselves," said USST coach Charlie McKee. "Steph and Maggie took a few lessons away from Palma, put them to good use here and sailed very well to win a well-deserved silver medal. Daniela came here focused and well prepared, and delivered an extremely consistent performance and impressive to win the In the 49er fleet, Nevin and Mac returned to international competition after a long absence and shocked the fleet with their ability to perform immediately at the highest level. Ian Barrows and Hans Henken were a big help in bringing Nevin and Mac up to speed, and the cooperative spirit these athletes displayed showed the true power of "the team" within the American single sculls program in booming."
"The sailors are focused, training hard and collaborating," said Paul Cayard, executive director of US Olympic Sailing. "We have great coaches. There is a TEAM behind the athletes and coaches. Thanks to our sponsors and donors, we have more resources to provide more support. The results from the spring events in Europe are encouraging. However , our destination is far away."
Final results available here.
[ad_2]
Source link