Eighty-two percent of people sampled in a study conducted by Victoria University reported experiencing at least one form of interpersonal violence when participating in community sports as children.
Key points:
Three-quarters of respondents said they had experienced emotional abuse or neglect in children's sport
Seventy-three percent have experienced violence from their peers and 66% said they had experienced it from a coach
Women experienced higher rates of sexual and emotional abuse, as well as neglect
The survey, which is the most comprehensive of its kind in Australia, asked 886 adults whether they had experienced physical, sexual or emotional abuse, as well as neglect, from coaches, peers or parents during their childhood.
Seventy-six percent reported experiencing emotional abuse or neglect, 66% reported physical abuse, and 38% reported sexual abuse.
One in three respondents, meanwhile, said they had experienced all four forms of violence.
Respondents had participated in a wide variety of sports, with nearly 70 represented.
While such large numbers may come as a surprise to some, study co-author Mary Woessner said she wasn't shocked.
"Based on the literature, and knowing what's happening internationally, I would say that's exactly what we expected," Dr Woessner told the ABC.
"One of the first things you need to create change, positive change, is to make it clear that there is a problem.
"We just want people to know it exists, so we can make evidence-based decisions to change it."
Dr. Woessner's co-author, Aurélie Pankowiak, explained that the survey asked participants for explicit examples of violence they might have experienced in a sporting context.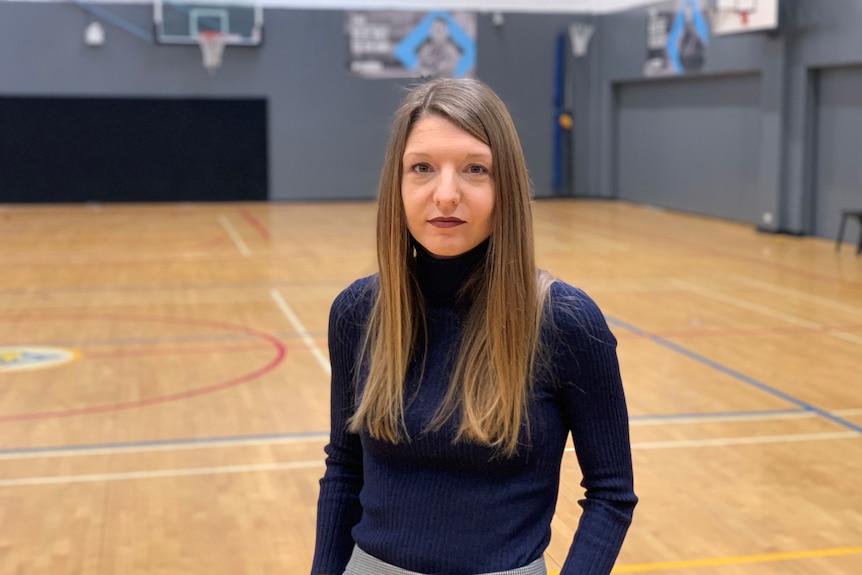 For neglect, for example, participants were asked if they had been denied time off for medical injuries.
For emotional abuse, participants were asked if they had been insulted, threatened or humiliated (eg by being bullied, given an unwanted nickname or otherwise ostracized).
"We had very concrete examples of different types of violence, so we didn't leave it up to the person to interpret whether what they experienced was violent or not," Dr Pankowiak said.
According to the authors, one of the reasons for this is that victims may take a long time to recognize that what they experienced constituted violence.
"The average time to report sexual abuse can be 20 years or more," Dr. Woessner said.
"At the moment we have a system that relies on children telling us what happened while knowing that the vast majority of literature says they won't. [come forward] for the coming years.
"That's why in this study, the easiest and safest way to collect this data was to do it retrospectively. [by asking adults]."
Most children experience violence from their peers
First, the study sought to break down children's experiences of violence based on who perpetrated it, including peers and parents as well as coaches.
This breakdown showed that 73% of respondents had experienced violence from their peers, followed by coaches (60%) and parents (35%).
Dr Woessner said it was important to distinguish who was committing the violence because most academic publications, as well as media coverage, have focused on violence perpetrated by coaches, usually at elite level.
This includes high-profile cases like that of Larry Nassar, the former US Olympic gymnastics team doctor who is serving a life sentence for sexually abusing at least 40 girls and women.
Australian swimmer Maddie Groves also recently came forward with the allegation that she was sexually abused by a former coach who is still working in the sport.
"You can walk away from an Olympic athlete who is being abused and start to think it only happens at the elite level," Dr. Woessner said.
"There's a mentality, 'well, he's not my kid, it's not happening in my sport or in my club'… but I think with this data we can show that it could being."
Data collected by Dr. Pankowiak and Dr. Woessner also showed significant gender differences in the types of abuse experienced by men, women, and gender-diverse people during childhood.
Women were more likely to be victims of sexual abuse than men, while they were also more likely to be victims of emotional abuse and neglect.
Men, on the other hand, were more likely to experience physical violence from a peer.
"When you're talking about a gendered experience, sometimes we just focus on women," Dr. Woessner said.
"But it's not that men don't experience violence, they just experience different types of it."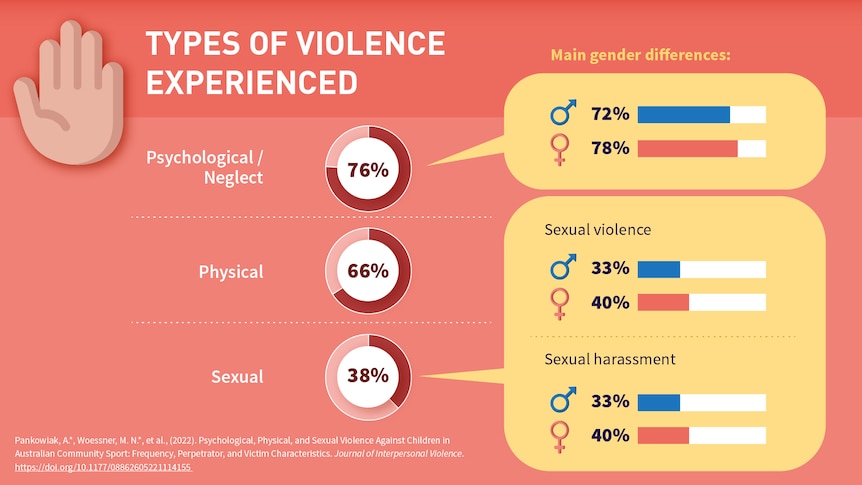 The authors also analyzed a third category, gender-diverse people, encompassing those who identified as non-binary, questioning gender, or selected "don't know" for their gender identity.
While the sample size was small, at 17 people in total, the authors found that people of various genders experienced higher rates of many types of violence compared to cisgender men and women.
"We know from the literature that marginalized communities experience institutionalized violence," Dr. Pankowiak said.
What was less clear, Dr. Pankowiak said, was how the experience of systemic marginalization translated into interpersonal violence in a sports context.
"We need to understand what's driving these rates," Dr. Woessner said.
"We're talking about gender diversity here, but we know that the wider LGBTQI+ community, people from culturally and linguistically diverse communities, are all at higher risk. We just don't understand why and how this happens. "
A wake-up call without a "miracle solution"
Although this particular study did not examine the impacts of experiencing childhood abuse, the authors said there was clear evidence that it could have lifelong adverse effects.
"We know there are long-term impacts," Dr. Woessner said.
"Often they [victim survivors] quit the sport. They may only quit the team they're on, but there are people who quit the sport altogether.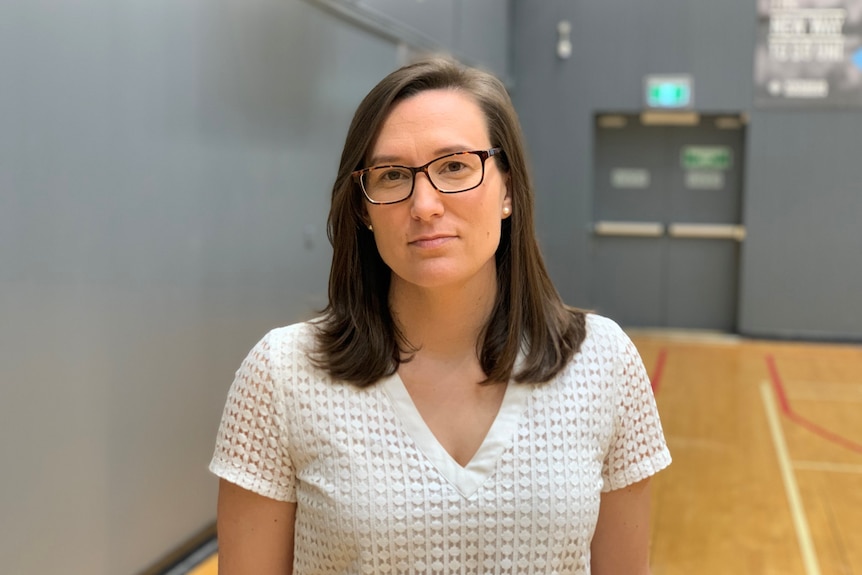 "Beyond the individual, you see families torn apart, you see communities torn apart.
"Community sport is run by volunteers, and when something like this happens it impacts not only the individual, but also their friends, family and, by default, the community."
Moving forward, the authors argued that early intervention is essential so that children and adults can continue to experience the many benefits of sport.
"What we see in the data is that we have a cultural normalization of violence in sport," Dr Woessner said.
"It's systemic, there isn't just one type of violence or one type of aggressor and it happens in all sports."
Dr Woessner added that while there was no "silver bullet", there were clear steps sport could take to protect children.
"When considering culture change, we need to go beyond just education and policies," Dr. Woessner said.
"We need to start from scratch and work with clubs on initiatives that are sustainable and have the potential to create behavioral change.
"I hope this data will begin to change the public perception of the prevalence of these experiences in community sport and call sport to action."
If you think you were abused as a child, you can make a complaint through Sport Integrity Australia's online portal.